Working for Nebraskans for 3 Generations
It all started back in 1949 when our grandpa started roofing part-time to earn extra money for his growing family.
Then, in 1978 in Wahoo, Gaylen and Ray Maly officially started doing business together as Ray Maly and Sons Roofing. Not long after, Gaylen and Ray started Malybuilt, which expanded the services they offered and expanded the business to focus on Omaha, Lincoln, and other surrounding areas.
Gaylen's 3 sons inevitably grew up around the business and witnessed the value it not only created for their own family, but the value it created for surrounding communities by bringing positive impacts to neighborhoods.
Since it all started in 1949, Malybuilt has been creating a "Built-To-Last" business for 3 generations.
We now service Lincoln, Omaha, Fremont, and other surrounding communities and have been fortunate enough to have assisted thousands of families with their roofing, siding, and gutter needs.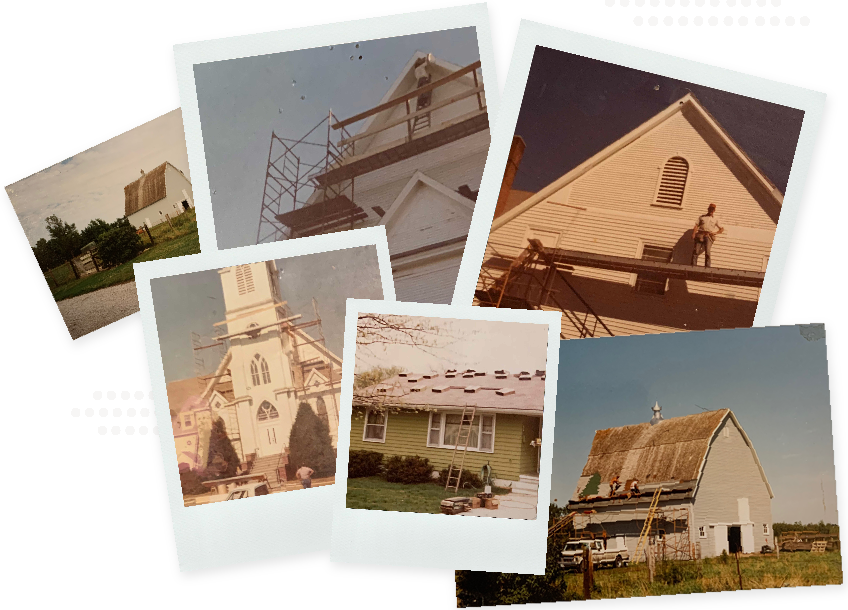 We started out as a family-owned business and, throughout the years, have remained a family-owned business. At Malybuilt, we're all about family. We take great pride in our work and consider all of our customers as an extended part of our family.
At Malybuilt, keeping our integrity both inside and outside the office is our number one priority. That's why we work hard and take the time to do the job right. That's why we put you, the customer, first.
Our current and former customers know us for our honest and knowledgeable personnel, reliable and responsive working crews, and high-quality roofing materials and workmanship that ensure a long-lasting roof. In fact, most of our business comes from referrals made by satisfied customers.
Great honest company that knows what they're doing. They were punctual, kept us up on what they were doing, and very hard working. Plus cleaned up everything really well.
Our Malybuilt guys just left! They did a spectacular job! The guys who did the roof were so friendly and they cleaned up everything after the job so well! We would highly recommend them! Malybuilt made the process simple and was a great contractor to work with! Thank you!
Malybuilt has been nothing but amazing to work with. The roofing crew was hard working, very efficient and worked overtime hours to finish our home and garage in 1 day. They cleaned up very well and we didn't find a single nail in our yard. We would recommend Malybuilt to everyone.
Malybuilt roofers just left after replacing our roof in 3 days. They were some of the hardest workers I've seen. Many Thanks! Each day I placed a cooler on front steps with water bottles, I ran out of Gatorade after first day for them (sorry guys) and appreciated their nice note left on my cooler today when they left! A+ guys!
Malybuilt made the process of having my house re-roofed, such a smooth process. Very informative employees that explain all of the process very well. If you need a new roof, this is the company you want to have do it for you! Thanks for everything Malybuilt!
Malybuilt was wonderful to work with. Our roof and gutters look amazing! They cleaned up everything and worked with insurance company so I didn't have to!
If you are looking for quality workmanship, someone who will take care of you before and after the job is completed, this is your company. No wonder they have been around for so long.
After the golfball size hail ruined my roof, Malybuilt came to the rescue, not only did they get me a brand new roof they even had my A/C unit replaced with a brand new energy efficient unit. These guys turned my disaster into a blessing! Thank you!
Our Malybuilt guys were very easy to work with; they did a Awesome job!!! They made sure everything was cleaned up after they finished the work. Thanks!
We just got our roof done by Malybuilt They were great! They take pride in what they do and it shows. They were polite, cleaned up everything, I have recommended them to my friends without hesitation.